Quick View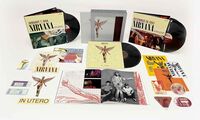 Nirvana's IN UTERO turns 30! An album that has sold more than 9 million copies worldwide, is celebrated with a multi-format collection: 8LP Super Deluxe, 5CD Super Deluxe, 2CD Deluxe Edition, 1LP + 10-inch
From the opening notes of "Serve The Servants" to the closing & hypnotic "All Apologies" – IN UTERO was at first naturally scrutinized for not sounding like NEVERMIND – with Steve Albini at the helm it was never intended to – the album is as David Fricke/Rolling Stone put it… "brilliant, corrosive, enraged and thoughtful – most of them all at once."
Boasting two Super Deluxe Editions – first an 8LP set, second a 5CD set that will all have identical audio content featuring 72 total tracks with 53 tracks being unreleased.  All three sets will showcase the album and 5 bonus tracks & b-sides all newly remastered from the original analog stereo tapes, 2 full concerts from Los Angeles 1993 and Seattle 1994, and 6 bonus live tracks from Rome, Springfield and New York.  All live tracks were source-separated from stereo soundboard tapes and reconstructed by legendary Seattle producer/engineer Jack Endino. 
The two physical Super Deluxes will also feature a removable front-cover acrylic panel with the album cover's iconic Angel printed on it; a 48-page hardcover book with unreleased photos; a 20-page newly designed fanzine; an LA tour poster litho by renowned hot rod artist Coop; replicas of the 1993 record store promo Angel mobile, 3 gig flyers, 2 ticket stubs for LA & Seattle shows, an All-Access tour laminate & 4 uniquely shaped cloth sticky tour backstage passes (Press, Photo, After Show, Local Crew).
The 2CD Deluxe Edition will feature the newly remastered album on CD 1 and 14 unreleased live tracks from the In Utero 1993/1994 tour on CD 2.  The 14 live tracks come from shows in Los Angeles, California; Springfield, Massachusetts; Rome, Italy; New York and their second-to-last hometown gig in Seattle, Washington.  Every song on In Utero is represented with a live performance plus two bonus performances of the band covering The Vaselines' "Jesus Doesn't Want Me For A Sunbeam" and the David Bowie classic "The Man Who Sold The World." Newly expanded artwork with unreleased photos are showcased in a 6-panel softpak and 20-page booklet.
The 1LP + 10-inch 180-gram vinyl edition offers fans the album newly remastered from 96kHz 24-bit transfers of the original stereo analog tapes and a bonus 10-inch of the newly remastered bonus tracks "Gallons Of Rubbing Alcohol Flow Through The Strip" (international album bonus track), "Marigold" (B-side written & recorded by Dave Grohl), "Sappy" (from No Alternative compilation), "Moist Vagina" (B-side) and "I Hate Myself And Want To Die" (from The Beavis & Butthead Experience soundtrack).  Newly expanded into a premium tip-on gatefold jacket with red foil details.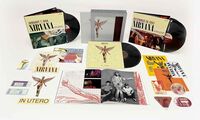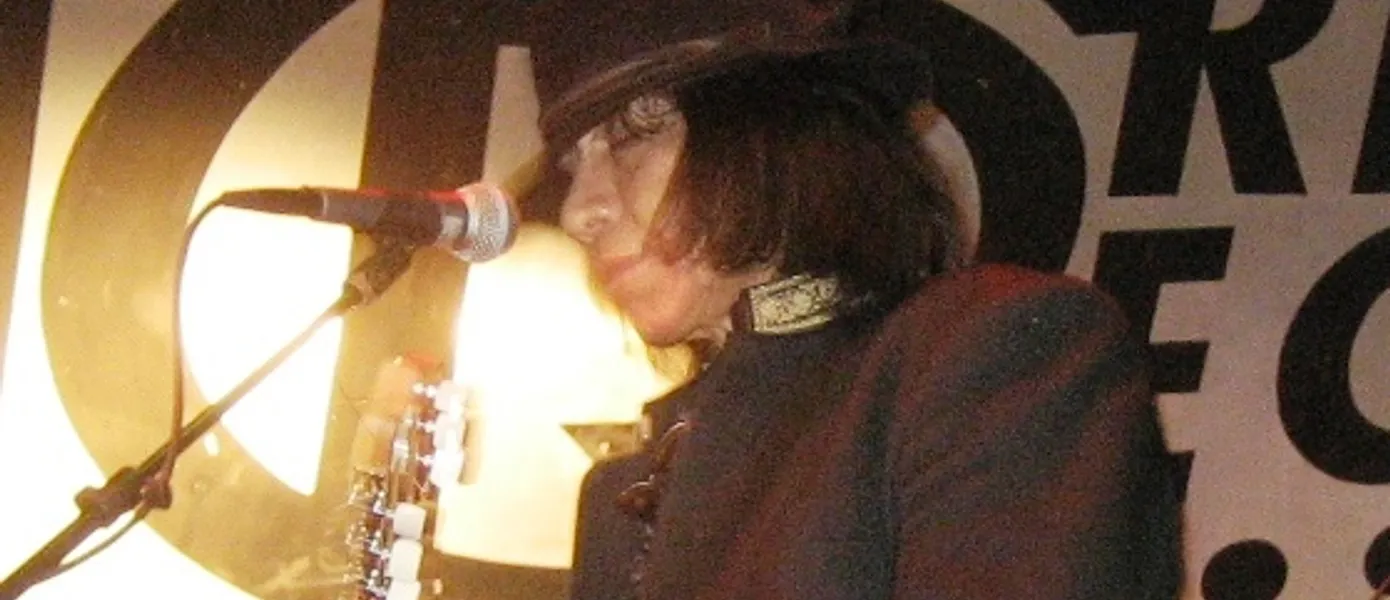 Jason Isbell - Southeastern 10 Year Anniversary Edition - Southeastern Records
Jason Isbell's songs are filled with ghosts. They're haunted by spirits both welcome and unwelcome, by the personal and historical legacies that make us who we are. Nowhere Is this more evident than on his 2013 breakthrough album Southeastern. Isbell offers confessions. reflections. and promises that contront and make communion with those who have come before and remain wIth us still. Its twelve tracks represent an extended meditation on the concept articulated by another celebrated southern storyteller, author William Faulkner: "The past is never dead. It isn't even past." The remastered album is available as Indie Exclusive Transparent Clearwater Blue Vinyl, LP, Deluxe 3LP Box Set or Deluxe 3CD Box Set.



Green Day - Dookie: 30th Anniversary - Reprise
Green Day's third studio album Dookie was released in February 1994, and has since sold over 15 million copies worldwide, including 10 million in the US (RIAA Diamond certified). The album is an iconic punk-rock-pop masterpiece and one of the most influential and defining albums of the 1990's. It spawned five hit singles that are still hugely popular songs: "Longview", "Basket Case", "Welcome to Paradise", "When I Come Around", and "She". Limited Edition Super Deluxe Box Sets (vinyl and CD) are being released to celebrate the 30th Anniversary of this landmark album. In addition to the original album, the super deluxe box sets will include a wealth of rare and unreleased material. The legendary Woodstock '94 performance is included – previously released as a very limited Record Store Day vinyl release. The 6 LPs (or 4 CDs) also feature 17 unreleased demos, 6 studio outtakes (3 unreleased), and a 17-track unreleased club show from Barcelona in 1994.  The deluxe vinyl box features the six LPs pressed on 6 different varieties of brown vinyl, plus a 36-page 12" x 12" book. The box also includes many fun memorabilia items inspired by the "Dookie" artwork: Doggie Poop Bags, Air-Freshener, Poster, Color-in litho, Button Set, Magnet Sheet, Postcard, Bumper Sticker and Paper Plane.  The CD box includes 4 CDs (the same audio content as the vinyl box), 48-page book, Button Set, Air-Freshener, Magnet and two stickers.



Jonas Brothers - The Family Business - Republic Records
The Family Business compiles the Jonas Brothers' hit singles together in one collection alongside two tracks from DNCE and four tracks from Nick Jonas' solo albums. The release serves as a companion piece to their current live show dates (entitled "The Tour") and their most recent studio release The Album which reached the top 3 in the USA and the UK upon release in May 2023. 2023 has been a busy year for the trio that has also included an appearance on Saturday Night Live, a sold-out residency on Broadway, tour dates at Yankee Stadium, Wrigley Field and Dodger Stadium, and a collaboration with TOMORROW X TOGETHER. In July, the recent Streamy Award winners announced an extension for "The Tour" with added dates in North America into December 2023, as well as shows in Australia, New Zealand and across Europe in 2024.



Boy Named Banjo - Dusk - Mercury Nashville
Dusk, Boy Named Banjo's exhilarating new album, is indeed an electrifying dose of lightning in a bottle, one that explores the full sonic and emotional spectrum of the band's rich, eclectic sound, from late-night, feel-good, fall-in-love party anthems to stripped-down, introspective meditations on loneliness, loss, and letting go. The writing is keen and incisive here, artfully grappling with lust and longing, hope and heartbreak, regret and redemption, and the Nashville five-piece's performances are nothing short of exhilarating, blurring the lines between Music Row and Laurel Canyon with lush harmonies and bold, cinematic arrangements.

  

Steven Wilson - The Harmony Codex - Spinefarm
Steven Wilson is an English musician and record producer. Currently a solo artist, he became known as the founder, lead guitarist, singer and songwriter of the band Porcupine Tree. He has also worked with artists such acts as Opeth, King Crimson, Pendulum, XTC, Tears for Fears and Roxy Music. His honors include four Grammy nominations: twice with Porcupine Tree, once with his collaborative band Storm Corrosion and once as a solo artist. The Harmony Codex is his most ambitious album to date.



NCT 127 - The 5th Album 'Fact Check' - SM Entertainment Co., Ltd.



Lil Peep - Hellboy - Death Note Music, LLC



Meat Puppets Megaforce Reissues - Megaforce



Run The Jewels - Run The Jewels: 10th Anniversary - Seeker Music Group



Darius Rucker - Carolyn's Boy - Capitol Nashville

  

Reba McEntire - Not That Fancy - Rockin' R Records, LLC



Read More

James Blake - Playing Robots Into Heaven - Republic Records
GRAMMY® Award-winning UK singer, songwriter, multi-instrumentalist and producer James Blake releases his sixth studio album Playing Robots Into Heaven. Playing Robots Into Heaven follows the critically acclaimed Friends That Break Your Heart and sees James return to the electronic roots of his Hessle, Hemlock and R&S records days.

  

Chappell Roan - The Rise And Fall Of A Midwest Princess - Island
Bold pop hooks, sex positivity, honest songwriting and a heavy dose of glitter make up the world of Chappell Roan, the next multi-faceted force in pop music. A technicolor celebration of self-discovery and transformation, The Rise And Fall Of A Midwest Princess tracks Chappell's cinematic journey of falling in queer love for the first time, while embracing all the messy and imperfect moments in-between. Penned by Amstutz alongside Dan Nigro (Olivia Rodrigo).



Bleach Lab - Lost In A Rush Of Emptiness - Nettwerk Records
Bleach Lab proudly call themselves perfectionists. The South London formed in 2017 as a duo of bassist Josh Longman and guitarist Frank Wates, they then recruited vocalist Jenna Kyle before reaching their final form at the start of 2021 with the recruitment of drummer Kieran Weston. After releasing three EPs, they are now gearing up for their debut album Lost In A Rush Of Emptiness, where the band felt free to experiment, always keeping true to their alternative nature. The songs on it are packed with widescreen, dreamy soundscapes that pushed their aesthetics forwards and continued the experimentation that exists at the heart of the project.

  

Carrie Underwood - Denim & Rhinestones [Deluxe Edition] - Capitol Nashville
This new Deluxe Edition features the original 12 tracks including the hit singles "Ghost Story" and "Hate My Heart," plus 6 additional songs including "Take Me Out" and her latest single "Out Of That Truck." Carrie is a true multiformat, multimedia superstar, spanning achievements in music, TV, film, and as a New York Times bestselling author and successful entrepreneur. She has sold more than 85 million records worldwide and recorded 28 #1 singles (14 of which she co-wrote).

  

Jason Isbell - Southeastern 10 Year Anniversary Edition - Southeastern Records



Green Day - Dookie: 30th Anniversary - Reprise



Jonas Brothers - The Family Business - Nettwerk Records



Boy Named Banjo - Dusk - Mercury Nashville

  

Steven Wilson - The Harmony Codex - Spinefarm



Read More
---
---