Quick View
"We are proud to announce, for the first time ever, the release of the complete soundtrack to ""A Charlie Brown Thanksgiving."" Just in time for the 50th anniversary of the celebrated animated holiday television special, written and created by Charles Schulz, directed by Bill Melendez and Phil Roman and produced by Melendez and Lee Mendelson, this is the complete Vince Guaraldi score along with never-before-heard bonus material. Newly re-discovered in our vaults, the original recording sessions for Vince Guaraldi's beloved soundtrack have been remixed and remastered for audiophiles and Peanuts® fans everywhere. Includes many previously unreleased tracks, several never heard since the Vince Guaraldi Quintet laid them down for the recording session in 1973. All remastered from the original 2"" 16 track source tapes. This soundtrack from the 1973 holiday classic includes Guaraldi hits from the original sources like the funky brass filled ""Linus and Lucy,"" ""Thanksgiving Theme,"" and the soulful ""Little Birdie."" You will hear timbres from instruments that were previously buried in the show mix. Furthermore, there are bonus tracks for ""Thanksgiving Interlude"" demonstrating how Guaraldi crafted his score for the special; an additional keyboard on ""Linus and Lucy;"" and Guaraldi whistling the melody for ""Is It James or Charlie?"" Beyond the composer's piano playing, the quintet is made up of Mike Clark on drums; Seward McCain (longest touring bassist with Guaraldi - holding down the electric bass at Guaraldi's request); Tom Harrell on trumpet to class up the album; and Chuck Bennett on Trombone. This is some of the funkiest Guaraldi you'll hear as his quintet leaned into the East Bay Sound, a type of funk that Mike Clark helped pioneer in the early '70s. Guaraldi even lends his bluesy voice to introduce Woodstock with ""Little Birdie."" The album was remix engineered by Terry Carleton, restored and mastered by Vinson Hudson, and produced by Sean and Jason Mendelson."
Quick View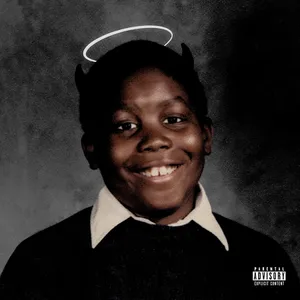 Killer Mike's MICHAEL marks the celebrated MC's first solo project since 2012's R.A.P. Music. MICHAEL introduces the world to the totality of Michael Render, a lifelong rap fiend whose consciousness is steeped in the sounds of community that raised him – multiple eras of southern rap flows, Sunday church service and barbershop discourse. A 14-track album produced by No ID featuring the likes of Future, Young Thug, Ty Dolla $ign, Curren$y, André 3000, 6LACK, EL-P, Blxst, Eryn Allen Kane and more! 2 LP set includes a 24" x 12" pull-out insert.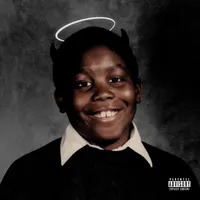 Quick View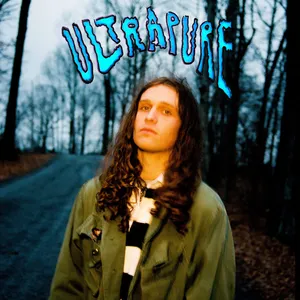 My favorite moments in the human experience are ones that you don't even realize have started, but feel so deeply when you realize they've ended. I refer to these as 'Ultrapure' moments. This album was my humble, unqualified, and earnest as hell attempt at sitting in those feelings until they had no choice but to burst out of my head. These songs are about a type of pain I hate and love, but mostly have a deep appreciation for.
We made this album during a particularly beautiful season in Nashville, TN. Working with Daniel Tashian and Konrad Snyder felt like being guided by two wise and empathetic souls – who also happen to be undeniable goofballs – to do nothing but be myself. They pushed me to trust myself, even to the point of me playing every instrument on this record so that it felt as personal as I wanted it to! (My first time playing drums or piano in front of anyone else! Horrifying!!!)
Making this album was a perfect combination of effortlessness and a struggle. It was very clear from the start it was going to be something I would never forget. The thesis formed when I wrote the title track, "Ultrapure," which was the second song I wrote for the album, after "Body." It was one of those rare artist's dream songs that took just 15 minutes to spill out after weeks of writing what were, essentially, a lot of shitty songs. It was the kind of song that laughed at me when I finished it, mockingly saying "I've been here all along dumbass!!!" So began a meditative cycle of me practicing getting out of my own way and letting these songs present themselves.
Throughout the record I wanted to open a lot of doors, peek my head in, and reflect for a bit. For the first time I'm addressing both the pains of my childhood, and the love I have for my mother. Honoring this duality, "Delaware," "Sunshine," and "Ultrapure" all touch on the defining moments of travel, danger, and uncertainty I felt in my early life, while their titles reference some of the most beautiful memories I have. Writing about all of this was totally new for me, but these songs guided me so kindly to the moments like "Breathe," "Chaos Party," and "Body," where I was able to celebrate the lessons those early pains taught me.
My proudest moments on this album occur in "Sunburn Fades," "Skyline," and "Sink;Swim." I'm not quick to pat myself on the back, it's actually really hard for me to do. But these songs allowed me to remember what it felt like to say exactly what I was feeling, and I'm proud of and grateful for that experience.
There is so much beauty in this world – heart wrenching, belly laughing, breathtaking beauty. I've seen it up close, and I've seen it fade away. How are we supposed to keep up with this infinite beautiful cycle of being alive? This album helped me discover my answer to that question I'm perpetually asking. To strive to be ULTRAPURE. To strive to be fearless, open-hearted, and unconcerned with the pain that loving the world and everyone in it can cause. To take the leap, laugh at yourself, and want nothing but that beauty to be.
I hope this album reflects that pursuit, and eases anyone's fears about needing to know everything. It certainly helped me. This album experience began and ended in what felt like an effortless blink of an eye, like a true ULTRAPURE moment would. I'm hoping it's the beginning of many more to come.
Quick View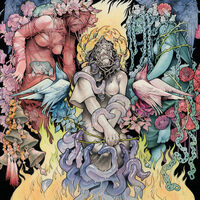 The indie exclusive of STONE LP is a ruby red LP housed in a heavyweight printed inner sleeve inside of a spot UV gatefold jacket with black flood and a four-panel lyric booklet. All artwork by John Dyer Baizley. Produced by Baroness, mixed by Joe Barresi, mastered by Bob Ludwig at Gateway Mastering. Only available at independent record stores.

Grammy-award nominated heavy rock outfit Baroness mark their much-anticipated return with new album, STONE. Their sixth record overall and third released via Abraxan Hymns, STONE finds the Philadelphia-based quartet of John Baizley (guitars/vocals/illustration), Gina Gleason (guitars), Nick Jost (bass), and Sebastian Thomson (drums) streamlining the momentous multi-genre vocabulary of its critically-acclaimed predecessor Gold & Grey (2019). This is still very much Baroness—just refocused for efficiency and rethought as a consequence of stability. STONE's most prominent tracks, "Last Word," "Beneath the Rose," "Shine," and "Anodyne," reflect thoughtfully, groove deeply, and refract tumult effortlessly. They, of course, rock.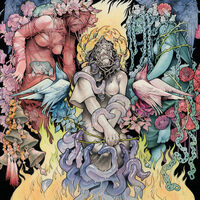 Quick View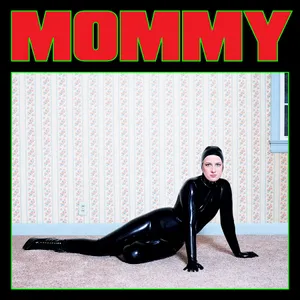 The Nashville, Tennessee, garage rock group were signed as teenagers to the prestigious XL in the UK and Thurston Moore's Ecstatic Peace label in the US, with whom they released two widely acclaimed albums. They went on to tour with the likes of Arctic Monkeys, Sonic Youth, Le Tigre etc and have been cited as influences for groups such as Paramore and Big Joanie.
Quick View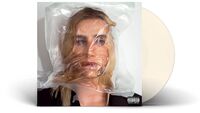 Gag Order is an album that finds the GRAMMY-nominated pop star, Kesha, excavating the deepest recesses of her soul to date. The record, which Kesha has labeled "post-pop" and was produced by Rick Rubin, is a full-bodied collection that flows like a stream of conscious journey through the psychedelic dark depths of the human psyche followed by basking in the cleansing light when finally reaching the surface.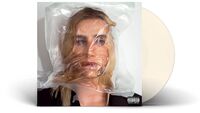 Quick View
There are times when an artist transcends the form. When the spirit of music goes beyond embodying sound. 1987 saw the release of Linda Ronstadt's groundbreaking love letter to her family soul and lifeblood - Canciones de mi Padre.

Selling over 10 million copies and celebrated by music lovers across the globe, and here at home by both Grammy's and the Library of Congress, Linda Ronstadt brought the most beautiful and timeless Spanish melodies back into homes in a loving reunion as well as coloring new rooms where these songs, bright as the day, suddenly rang out.

New connections celebrating beauty, language, and roots. Even today - especially today - the sound of Canciones de mi Padre links the then to the now and onward.
Quick View
Atlantic Records is proud to announce Barbie The Album, the groundbreaking and star-studded musical companion to the highly anticipated summer event film Barbie, starring Margot Robbie and Ryan Gosling as Barbie and Ken and distributed by Warner Bros. Pictures. The album will feature new tracks from an unprecedented lineup of artists including Nicki Minaj and Ice Spice, Dua Lipa, Lizzo,KAROL G, Charli XCX, PinkPantheress, Ava Max, Dominic Fike, Khalid, The Kid LAROI, Tame Impala,HAIM, GAYLE and FIFTY FIFTY feat. Kali. Barbie star Ryan Gosling also joins the robust roster of soundtrack artists with his iconic original song performed as his character, Ken. Barbie The Albumarrives in stores and at all online retailers on Friday, July 21st in conjunction with the theatrical release of the feature film.


Quick View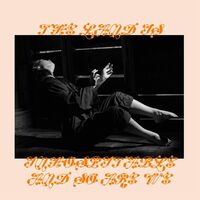 Sometimes, Mitski says, it feels like life would be easier without hope, or a soul, or love. But when she closes her eyes and thinks about what's truly hers, what can't be repossessed or demolished, she sees love. "The best thing I ever did in my life was to love people," Mitski says. "I wish I could leave behind all the love I have, after I die, so that I can shine all this goodness, all this good love that I've created onto other people." She hopes her newest album, The Land Is Inhospitable and So Are We, will continue to shine that love long after she's gone. Listening to it, that's precisely how it feels: like a love that's haunting the land.

"This is my most American album," Mitski says about her seventh record, and the music feels like a profound act of witnessing this country, in all of its private sorrows and painful contradictions. In this album, which is sonically Mitski's most expansive, epic, and wise, the songs seem to be introducing wounds and then actively healing them. Here, love is time-traveling to bless our tender days, like the light from a distant star.

The album is full of the ache of the grown- up, seemingly mundane heartbreaks and joys that are often unsung but feel enormous. It's a tiny epic. From the bottom of a glass, to a driveway slushy with memory and snow, to a freight train barreling through the Midwest, and all the way to the moon, it feels like everything, and everyone, is crying out, screaming in pain, arching towards love. Love is that inhospitable land, beckoning us and then rejecting us. To love this place — this earth, this America, this body — takes active work. It might be impossible. The best things are.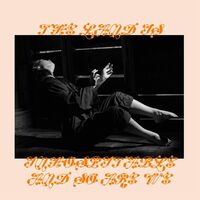 Quick View
everything is alive, Slowdive's 5th record, is exactly what the title suggests: an exploration into the shimmering nature of life and the universal touch points within it. 

While there are parts of this record that could sit neatly next to the atmospheric quality of 1995's Pygmalion; everything is alive also manages to break down the boundaries of what's come before it. Spanning psychedelic soundscapes, pulsating 80's electronic elements and John Cale inspired journeys, the album lands immediately as something made for 2023 and beyond. 

For a genre that is often thought of as divisive, and often warrants introspection, here Slowdive show their craft as the masters of it by pushing it outwards, beyond the singular; the end result being a record which feels as emotional and cathartic as it is hopeful.
Quick View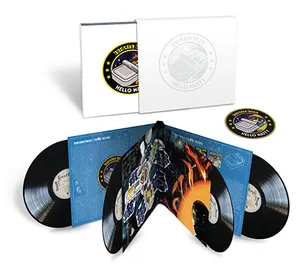 Celebrating the 25th Anniversary of Beastie Boys' multiplatinum Hello Nasty album, this deluxe vinyl reissue is a rare version of the album that was released as a limited run in 2009. It includes two additional LPs with 21 bonus tracks (remixes, B-sides, rarities) and features the singles "Intergalactic" (certified platinum), "Body Movin'" and "The Negotiation Limerick File." Co-produced by Beastie Boys and Mario Caldato Jr., it's a record that embraces a kaleidoscope of musical influences, with hat-tips to Latin psych-rock, Brazilian samba, jazz-funk, dub, post-punk and an impressive collection of collaborators ranging from reggae vagabond Lee "Scratch" Perry to Cibo Matto's Miho Hatori. Pressed on 180g vinyl, this Deluxe 4 LP boxset is housed in a hardcover slipcase and includes a removable sew-on patch. Limited Edition.
Quick View
Opaque White Standard LP (indie exclusive). ANTI- Records is honored to share a never-before-heard album by Mark Linkous of Sparklehorse titled 'Bird Machine.' Originally recorded in 2010 and mixed by Mark Hamilton (who also worked on 'It's A Wonderful Life'), Mark's brother Matt notes "great care has been taken to archive and preserve Mark's music. We are very thankful for Mark and the beauty he brought to this world."Sparklehorse was an American indie rock band formed by singer-songwriter and multi-instrumentalist Mark Linkous in the mid-1990s. Born on September 9, 1962, in Arlington, Virginia, Linkous began playing music as a teenager.Described as an artist who "compelled listeners to heed the beauty of darkness" by Pitchfork, Sparklehorse released many influential records, including the renowned albums 'Vivadixiesubmarinetransmissionplot' and 'Good Morning Spider' in the '90s, 'It's A Wonderful Life' and 'Dreamt for Light Years in the Belly of a Mountain' in the early aughts, and a collaborative album 'Dark Night of the Soul' released in 2010.Throughout his career Mark collaborated with thought provoking artists like Vic Chesnutt, Daniel Johnston, Tom Waits, Danger Mouse, and David Lynch.While Mark recorded in various studios, collaborating with other musicians and producers, he did much of his work in his home studio, Static King, often playing and recording everything on his own. He was "very much kind of a working-class guy with a very poetic sensibility, who was drawn to artists like himself, who worked in isolation, " said NPR Fresh Air's Ken Tucker.Sadly, Linkous struggled with drug addiction and depression throughout his life, and despite his untimely death, his music continues to be highly regarded and influential in the indie rock and alternative music scenes.
Quick View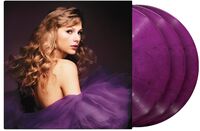 Taylor Swift -"Speak Now (Taylor's Version) - 3 LP - Taylor Swift's 2010 album "Speak Now" is being re-released on July 7 as "Speak Now (Taylor's Version)." The album will be released as a 3-LP vinyl - [Orchid Marbled 3 LP]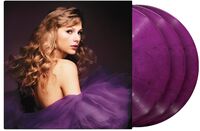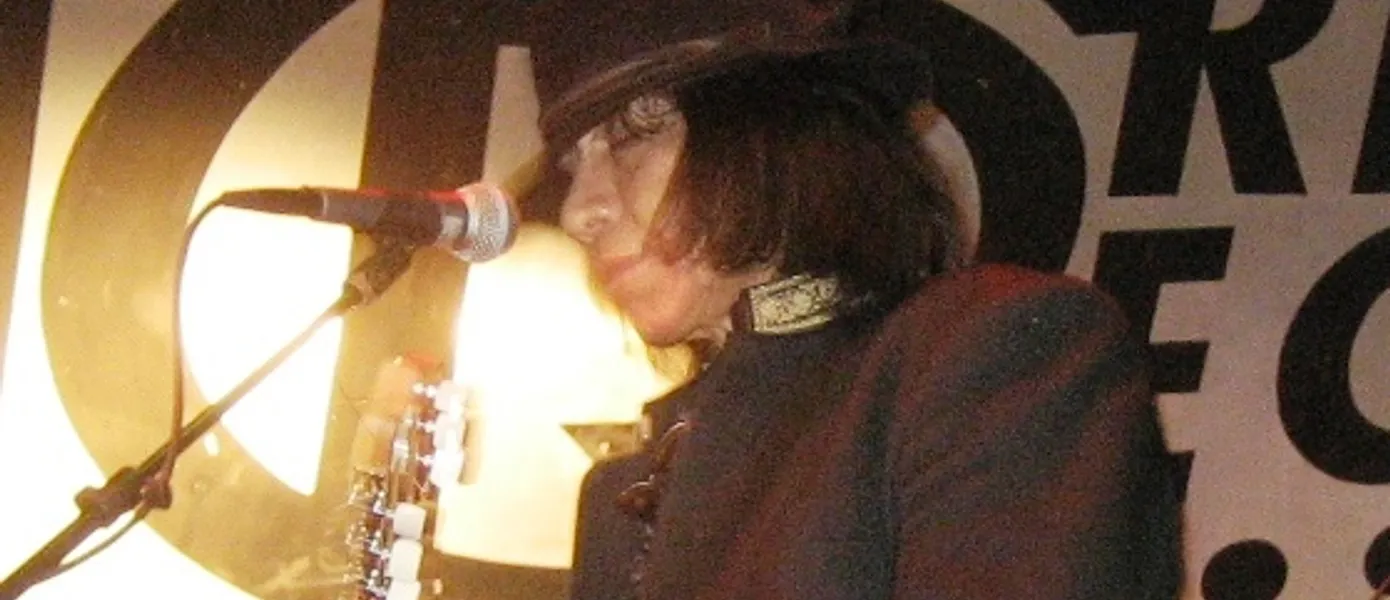 ---